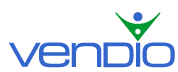 Vendio Services Inc. is the largest provider of online sales management and merchandising services for small to medium size businesses. Vendio is also the company behind Dealio, the Internet's newest and most innovative online comparison shopping destination. We are looking for a highly motivated and experienced Chief Technology Officer to lead our technology and engineering team.


Key Responsibilities:

Define and execute the technical vision and IT strategy in alignment with the broader corporate objectives.

Manage the diverse offshore and onshore engineering and QA teams in San Mateo, Bangalore and Bucharest.

Work with Product Management to define, prioritize, and execute the product and engineering roadmap.

Oversee product deliverables, releases and schedules.

Manage teams and define processes to ensure stable software and a high quality of product.

Work with technical operations in architecting and ensuring that the deployment is scalable, redundant and monitored.

Work with vendors on key software evaluations and purchases.

Work closely with technical teams of partners like eBay, Amazon.com and Google to ensure optimal integration strategies.

Identify and extract patentable work, work with engineers and legal to file patents.

Participate in and contribute to high level strategic discussions as a key member of the executive staff.
Qualifications:

The requirements listed below are representative of the knowledge, skill, education, experience and ability required.

Must have 10+ years technology experience with at least 5 years in a senior executive role (CTO or V.P. Engineering)

MS in Computer Science (or related field)

At least 5 years experience in the online search, e-commerce or other high transaction consumer business.

Must have managed offshore teams

Must have experience measuring and a successful track record of driving productivity gains.

Must have experience implementing and managing agile development methodologies.

Demonstrable problem solving skills – ability to solve complex problems in the face of time pressure and resource constraints

Experience and understanding in data mining, information retrieval and data analytics technologies will be given special consideration

Must have significant technical experience in:




Building highly scalable applications in J2EE, LAMP (Linux/Apache/MySQL/PHP/Perl) or equivalent technologies

Databases like MySQL and Oracle, the SQL and PL/SQL languages

Programming languages/environments like Java, C++, PHP, Ajax

Application servers like WebLogic, WebSphere, Tomcat or equivalent



Attention to detail and commitment to quality

Ability to work in a fast-changing dynamic startup environment

Must be a team player

Excellent communication and presentation skills (both verbal and written) and interpersonal skills.
Vendio Services Inc. offers a positive work environment with a strong team of talented and dedicated people; an opportunity to grow in experience and responsibility; and the opportunity to provide input in company and product strategy.
Vendio offers:
Very competitive compensation

Medical with choice of PPO or HMO plans

Dental insurance

Vision insurance

Life and AD&D insurance

401(k) Investment Plan

Pre-IPO stock options

For immediate consideration, please apply
HERE.
URL: www.datashaping.com/jobs16401x.shtml
Please mention datashaping.com when applying. Thank you.